Programmable Voice
Blacc Spot Media leverages voice communications to build solutions that deliver results for our clients.
Build Great Customer Experiences (CX) with Voice
Cloud Communications Delivered.
Deliver Powerful Customer Engagement
Good communication isn't just a nice-to-have for business, it's imperative to delivering exceptional customer experiences that set you apart from your competition. Successful customer engagement is proven to increase sales opportunities, marketing conversions, and employee satisfaction. Programmable Voice provides you the flexibility to build a digital customer journey that quickly and easily provides your customers with support.
Programmable Voice
Blacc Spot Media helps organizations build digital customer experiences that enhance the customer journey, improve operational efficiencies, reduce costs and drive bottom-line results.
Typical Use Cases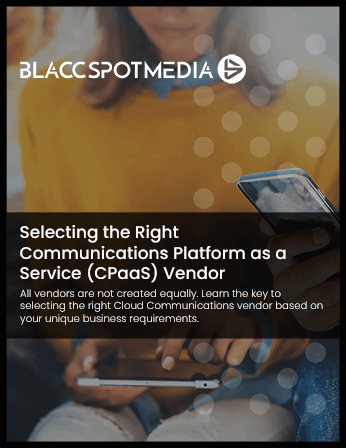 Read the Report
Selecting the Right CPaaS Vendor
All vendors are not created equally. Learn the key to selecting the right Cloud Communications vendor based on your unique business requirements.