CPaaS Vendor Selection
Blacc Spot Media partners with leading Communications Platforms as a Service (CPaaS) providers to deploy Cloud Communications products and services for our clients.
CPaaS Vendor Selection
All Cloud Communications Vendors Are Not Created Equally
With so many options to choose from, determining the right CPaaS provider for your company can be a difficult decision. We leverage the expertise we have gained over the years to provide our clients with greater insights into the strengths and weaknesses of the CPaaS providers in the market.
Blacc Spot Media helps our clients identify the right vendor based on their unique business requirements. We work with you to understand many factors including, but not limited to your target demographic, use cases, expected volume usage, targeted geographical regions, pricing sensitivity, and existing product roadmap in order to receive a comprehensive view of your Cloud Communications needs. After which, we will provide recommendations on CPaaS providers that are best suited for your company.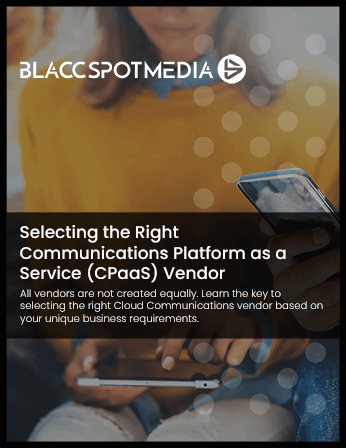 Read the Report
Selecting the Right CPaaS Vendor
All vendors are not created equally. Learn the key to selecting the right Cloud Communications vendor based on your unique business requirements.