Programmable Bots & AI
Blacc Spot Media uses Conversational Artificial Intelligence (AI) and Chatbots to automate our clients' business workflow processes, enhance customer engagement and cut operating expenses.
Deploy Intelligent Communications Solutions with AI & Machine Learning
Cloud Communications Delivered.
Enhance Your Customer Journey with AI-Powered Chatbots
Conversational AI is the future of business-to-consumer conversation. Customers demand faster, more responsive service and more interactive customer experiences (CX). Conversational AI and chatbots provide your customers with enhanced support while significantly decreasing operating expenses for your business.
Programmable Bots & AI
Blacc Spot Media works with our clients to build and deploy Conversational AI & Chatbot solutions improving customer communication across channels while also providing a seamless customer experience.
Typical Use Cases
Conversational AI & Chatbots allow you to engage with your customers anywhere in the world using any channel, device or service, and language. Chatbots are built to quickly and easily recognize, understand and respond to customer requests providing customers with immediate answers, thereby, improving both business operational efficiencies and workforce utilization.
Traditional Interactive Voice Responses (IVRs) are a thing of the past. Today's modern IVRs are evolving into intelligent systems that engage with customers in unprecedented ways because of the Conversational AI element. By leveraging Conversational AI, customers can converse naturally to efficiently retrieve the service they are seeking without having to navigate through long and complicated IVR trees. Properly built and managed AI solutions can reduce agent calls, improve call routing and increase customer satisfaction.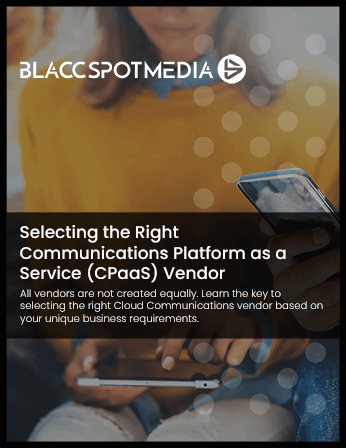 Read the Report
Selecting the Right CPaaS Vendor
All vendors are not created equally. Learn the key to selecting the right Cloud Communications vendor based on your unique business requirements.