Cloud Communications Strategy
Blacc Spot Media delivers impactful Cloud Communications Strategies that enable our clients to deliver enhanced digital transformation solutions.
Cloud Communications Strategy
Communications Strategies Built for Today's Digital Age
Traditional communication is evolving at an unprecedented rate. Many companies are finding themselves unable to keep up. An effective communications strategy is crucial to the success of every business. By understanding the customer engagement life cycle, we help organizations design and build Cloud Communications strategies that improve the customer journey.
With a modern communications strategy built for enhanced customer engagement, your organization can easily pivot across multiple channels to conveniently connect in the channel that is most appropriate for your customer.
Blacc Spot Media builds upon the knowledge and expertise gained since our inception to define digital communications strategies that focus on providing our clients with solutions that streamline workflow operations, cut operational costs and improve organizational inefficiencies.
Similar Consulting Services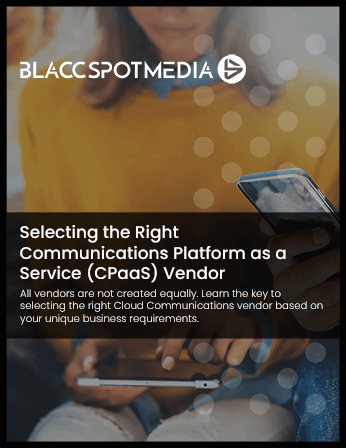 Read the Report
Selecting the Right CPaaS Vendor
All vendors are not created equally. Learn the key to selecting the right Cloud Communications vendor based on your unique business requirements.