Our Expertise
Blacc Spot Media works with our clients to create unique experiences for customers to connect with brands in new ways.
Transform Your Digital Customer Journey with Cloud Communications
---
As a Twilio Certified Flex Ready partner, we deploy customizable cloud-based contact center solutions.
---
We will help you build, scale, and operate voice applications in the cloud transforming your cloud communications strategy.
---
We create contextual, effective communication strategies using SMS/MMS that can provide your customers with the information they need, when and where they need it.
---
We build innovative, high-quality products and services that enhance communication experiences that allow your users to collaborate from anywhere using video with WebRTC.
---
We enable seamless communication within your products and services allowing customers to engage with your business through any channel.
---
We build intelligent bots to help streamline your workflow process and provide customers with answers quickly and efficiently across multiple communications channels.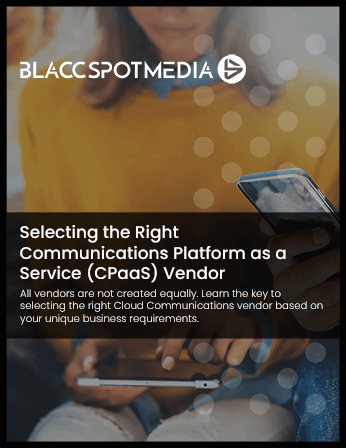 Read the Report
Selecting the Right CPaaS Vendor
All vendors are not created equally. Learn the key to selecting the right Cloud Communications vendor based on your unique business requirements.