Software Product Development
Blacc Spot Media creates enterprise Cloud Communications applications that streamline, automate and optimize our clients' business processes.
Software Product Development
Software Applications Built with Modern Cloud Communications Strategies
Deploying software applications that deliver enhanced customer experiences (CX), provide flexibility and control over your digital communications strategy and optimize your business processes, are key to launching a successful Cloud Communications product or service.
Blacc Spot Media works with our clients to design, build and deploy custom software applications using the latest Cloud Communications technologies. Our elite team of business analysts, project managers, and software engineers will guide you through the entire process of building your software product. From idea to prototype to release, Blacc Spot media can help your company through the entire software development life cycle.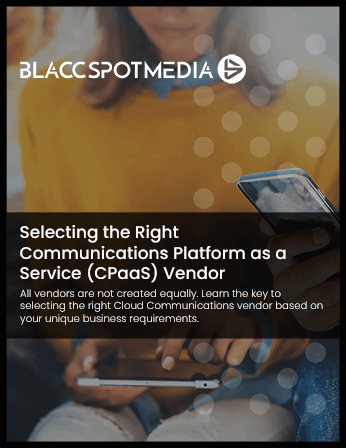 Read the Report
Selecting the Right CPaaS Vendor
All vendors are not created equally. Learn the key to selecting the right Cloud Communications vendor based on your unique business requirements.