Product Requirements Gathering
Blacc Spot Media focuses on eliciting project requirements that will help you define effective product roadmaps and launch successful products.
Product Requirements Gathering
Define the Blueprint for Your Cloud Communications Products & Services
Defining the right Cloud Communications Strategy for your organization is only the first step to ensuring the success of your digital communications plan. The requirements gathering process is key to ensure your business is able to effectively identify the scope and define the plan for your new product or service.
Blacc Spot Media uses specific methods and practices that have proven to be effective for ensuring discovery sessions are focused and productive, with clear and accurate requirement specifications defined.
Once requirements have been identified and scope defined for the project, you will have a complete blueprint of your new product or service to provide to stakeholders. Blacc Spot Media will work with your team to identify the business priorities, goals and objectives in order to define an effective plan for delivering your solution successfully to the market.
Similar Consulting Services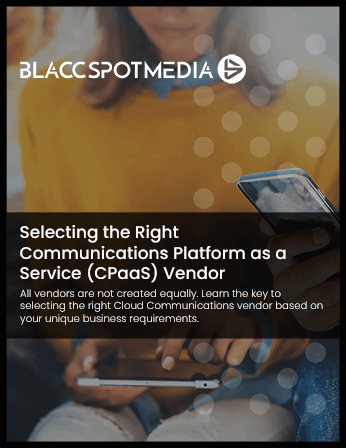 Read the Report
Selecting the Right CPaaS Vendor
All vendors are not created equally. Learn the key to selecting the right Cloud Communications vendor based on your unique business requirements.