Twilio Flex Services
Blacc Spot Media provides comprehensive managed services support for your Twilio Flex contact center, allowing your primary focus to be on providing exceptional support for your customers.
Twilio Flex Services
Managed Services for Twilio Flex
Building a programmable contact center solution with Twilio Flex is only the first step to ensuring you continue to provide exceptional experiences for your customers while optimizing and automating workforce business processes and efficiencies.
Our Twilio Support Services provide you with the flexibility and control to fine-tune your communications workflow, add new channels, and integrate solutions with the peace of mind that our team of experts will effectively manage the entire process.
Managed Support Service requirements for Twilio Flex are different for every organization. Blacc Spot Media will work with you to build a service plan that fits your unique business needs to ensure your Twilio Flex contact center operates efficiently.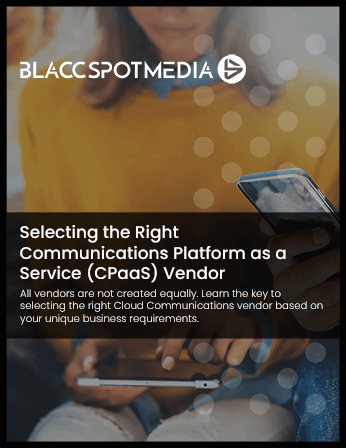 Read the Report
Selecting the Right CPaaS Vendor
All vendors are not created equally. Learn the key to selecting the right Cloud Communications vendor based on your unique business requirements.