Programmable Video
Blacc Spot Media builds immersive video communications experiences that give our clients the power to make instant and personal connections with their customers.
Harness the Power of Video Communications
Cloud Communications Delivered.
Reimagine Communications with Video
Communications have profoundly changed to create new opportunities for businesses to engage customers like never before. Businesses are using video communications to create new, innovative, high-quality products and services that enhance communication experiences allowing users to collaborate from anywhere. Programmable Video equips you with tools to provide more flexible, intelligent solutions that connect customers with your brand more intimately.
Programmable Video
Blacc Spot Media works with our clients to deploy video communications solutions that connect their audiences. We build dynamic, real-time communications solutions that help improve customer engagement within their organization.
Typical Use Cases
In today's market, offering your customers immediate online access to knowledge and services is imperative. Video communication enables greater collaboration which drives higher levels of user engagement and customer-centric experiences, thereby, increasing brand loyalty as well as creating more personalized, long-lasting connections. When implemented correctly, video communications can redefine your digital customer journey providing new ways to engage your customers more efficiently.
Build immersive streaming experiences that engage your customers. Traditional broadcasting is evolving which allows customers to interact with rich, real-time online content, businesses and brands like never before. Defining the right digital communications strategy is key to unlocking the power of enhanced communications capabilities that increase brand loyalty and customer satisfaction.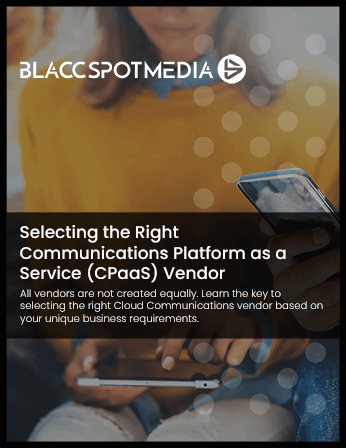 Read the Report
Selecting the Right CPaaS Vendor
All vendors are not created equally. Learn the key to selecting the right Cloud Communications vendor based on your unique business requirements.