Market Research & Analysis
Blacc Spot Media focuses exclusively on providing consulting and development services for the Cloud Communications market.
Market Research & Analysis
Modern Communication Initiatives Start With Understanding the Possibilities
For numerous companies, digital transformation initiatives are being led by the implementation of modern communications strategies using the latest in cloud communications technology. There are many technologies to choose from within the Cloud Communications umbrella such as Unified Communications as a Service (UCaaS), Communications Platform as a Service (CPaaS), and Contact Center as a Service (CCaaS). The question is, which Cloud Communications solution best meets your business needs?
Since 2011, Blacc Spot Media has worked with companies, just like yours, to help them gain greater insight into the options that exist in the market for deploying successful Cloud Communications products and services. With a complete understanding of the market and years of experience, we offer a variety of consulting services to help your organization.
Whether it's conducting an assessment for selecting the right CPaaS vendor for your unique business requirements, defining the right Cloud Communications Strategy for your organization or defining Product Requirements and Roadmap, Blacc Spot Media has the expertise to deliver results for your digital communications initiatives.
Similar Consulting Services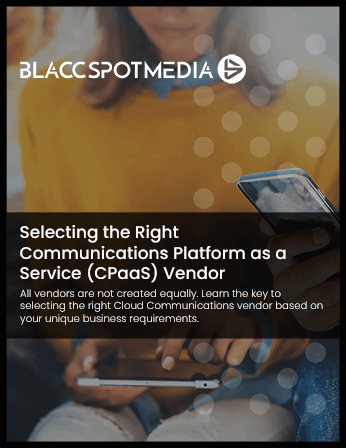 Read the Report
Selecting the Right CPaaS Vendor
All vendors are not created equally. Learn the key to selecting the right Cloud Communications vendor based on your unique business requirements.