Programmable SMS/MMS
Blacc Spot Media creates seamless communication strategies that enable our clients to engage their customers using SMS/MMS.
Reach Your Customers Where They Are with SMS/MMS
Cloud Communications Delivered.
Engage Customers with the Power of Programmable SMS/MMS
In today's digital landscape, the right messaging strategy is crucial to every business' success. For businesses looking to differentiate themselves and stay competitive, implementing effective messaging strategies into their customer journey is essential.
Programmable SMS/MMS
Blacc Spot Media works with businesses to create contextual, effective communication strategies using SMS/MMS that provide customers with the information they need, when and where they need it.
Typical Use Cases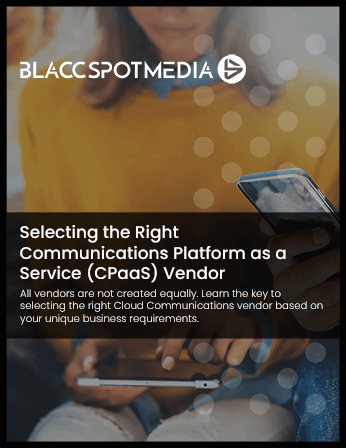 Read the Report
Selecting the Right CPaaS Vendor
All vendors are not created equally. Learn the key to selecting the right Cloud Communications vendor based on your unique business requirements.