Programmable Messaging
Blacc Spot Media deploys effective, cross-channel digital messaging strategies that improve customer engagement and satisfaction.
Centralize and Manage Cross-Channel Customer Conversations
Cloud Communications Delivered.
Improve Customer Engagement with Conversations
In today's connected world, messaging is one of the most universal ways that people communicate. Businesses that leverage messaging to engage with customers are accelerating ROI by streamlining communications, improving employee productivity, and increasing customer satisfaction. Building the right digital messaging strategy is key to improving your customer experience (CX).
Programmable Messaging
Blacc Spot Media works with our clients to define cloud messaging strategies that transform the digital customer journey allowing customers to engage seamlessly in their preferred communication channel.
Typical Use Cases
Messaging is integral to your customer engagement strategy. With the rise of social media and smartphone usage, today's consumers are redefining how business-to-consumer communication is handled. Businesses must build digital messaging strategies that work across multiple channels all while providing the best customer experiences and equipping the workforce with the right tools to solve customer requests quickly and efficiently.
Drive smarter conversations with your customers using the right messaging strategy. Improving customer engagement requires the integration of messaging into ongoing conversations so your business can intimately connect with customers building strong, long-lasting relationships. Success is achieved when your digital messaging strategy engages all communication channels and customer touchpoints.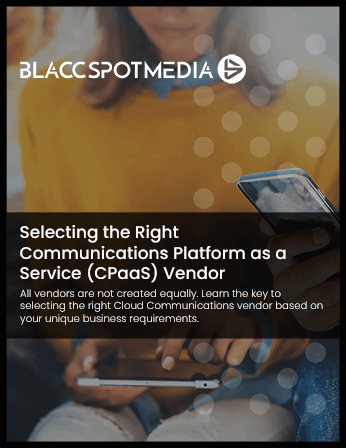 Read the Report
Selecting the Right CPaaS Vendor
All vendors are not created equally. Learn the key to selecting the right Cloud Communications vendor based on your unique business requirements.