Consulting Services
Blacc Spot Media solves the toughest communications challenges for our clients by providing unparalleled services in strategy, consulting, technology, customer experience, and business operations.
Programmable Communications That Transform Business Processes and Workflows
Strategic Consulting
We provide strategic consulting services with a focus on defining Cloud Communications strategies that help our clients deploy digital transformation with modern communications technologies.
Software Applications
We design, build and deploy software applications, powered by the latest in Cloud Communications technologies, to help companies streamline business processes, increase efficiency, enhance customer and user experiences while lowering operational costs.
Managed Services
Our managed services provide proactive support which improves your software application's reliability and performance while also giving you peace of mind so you can focus on business critical operations.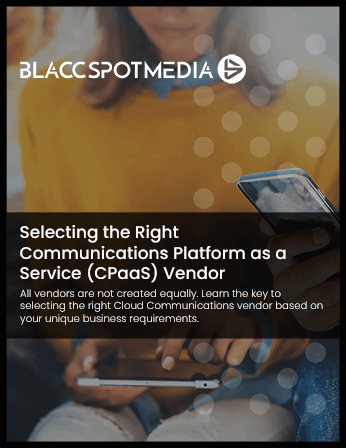 Read the Report
Selecting the Right CPaaS Vendor
All vendors are not created equally. Learn the key to selecting the right Cloud Communications vendor based on your unique business requirements.